Workday public transit bringing riders from east and west Crozet to UVA and Downtown Charlottesville.
The Crozet PM Loop covers stops on both the west and east sides for those who need a later ride home in the evening.
*Note the last time noted for each bus is the last service stop and will not serve as a return stop.
Crozet East Morning Schedule
Crozet CONNECT East Morning Schedule

| STOP NAME | DEPARTURE TIME | DEPARTURE TIME | DEPARTURE TIME |
| --- | --- | --- | --- |
| Ridge McIntire Rd @ Omni Hotel | 5:31 am | 6:39 am | 7:38 am |
| Three Notchd Rd @ East Downtown Crozet | 5:56 am | 7:04 am | 8:04 am |
| Three Notchd Rd @ Starr Hill Brewery | 5:59 am | 7:08 am | 8:07 am |
| Park Ridge Dr @ Stonegate Ln | 6:02 am | 7:10 am | 8:09 am |
| Park Ridge Dr @ Eastern Ave | 6:05 am | 7:13 am | 8:12 am |
| Park Ridge Dr @ Cardinal Crest Ct | 6:06 am | 7:15 am | 8:14 am |
| Wickham Pond Dr @ Clubhouse | 6:08 am | 7:19 am | 8:18 am |
| Mechums River @ Amber Ridge Rd | 6:11 am | 7:21 am | 8:21 am |
| Emmet St @ Ridley Hall | 6:28 am | 7:43 am | 8:43 am |
| Jefferson Park Ave @ Pinn Hall | 6:31 am | 7:50 am | 8:50 am |
| Ridge McIntire Rd @ Omni Hotel | 6:39 am | *7:58 am | *8:58 am |
| Bus Assignments | 1st Bus | 1st Bus | 2nd Bus |
Crozet East Afternoon Schedule
Crozet CONNECT East Afternoon Schedule

| STOP NAME | DEPARTURE TIME | DEPARTURE TIME | DEPARTURE TIME | DEPARTURE TIME |
| --- | --- | --- | --- | --- |
| Ridge McIntire Rd @ Omni Hotel | 3:47 pm | 4:29 pm | 5:07 pm | 5:52 pm |
| Jefferson Park Ave @ West Complex | 3:57 pm | 4:40 pm | 5:20 pm | 6:03 pm |
| Emmet St @ Central Grounds Garage | 4:01 pm | 4:45 pm | 5:24 pm | 6:07 pm |
| Mechums River @ Amber Ridge Rd | 4:22 pm | 5:04 pm | 5:44 pm | 6:27 pm |
| Wickham Pond Dr @ Clubhouse | 4:26 pm | 5:07 pm | 5:48 pm | 6:31 pm |
| Park Ridge Dr @ Stonegate Ln | 4:29 pm | 5:10 pm | 5:49 pm | 6:33 pm |
| Park Ridge Dr @ Eastern Ave | 4:32 pm | 5:12 pm | 5:52 pm | 6:35 pm |
| Park Ridge Dr @ Cardinal Crest Ct | 4:34 pm | 5:14 pm | 5:54 pm | 6:37 pm |
| Three Notched Rd @ Starr Hill Brewery | 4:38 pm | 5:18 pm | 5:58 pm | 6:41 pm |
| Three Notchd Rd @ East Downtown Crozet | 4:41 pm | 5:21 pm | 5:59 pm | 6:44 pm |
| Ridge McIntire Rd @ Omni Hotel | 5:06 pm | 5:50 pm | *6:28 pm | *7:06 pm |
| Bus Assignments | 1st Bus | 2nd Bus | 1st Bus | 2nd Bus |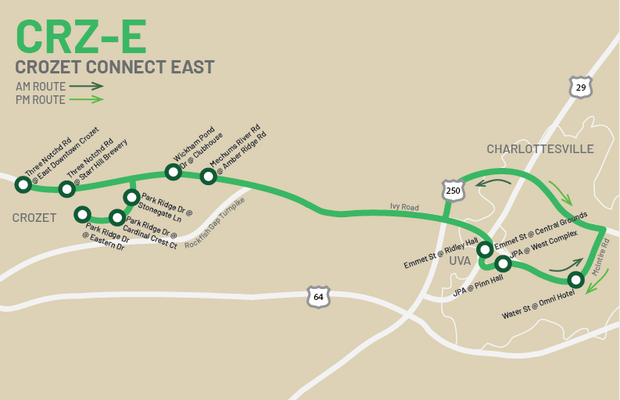 Crozet West Morning Schedule
Crozet CONNECT West Morning Schedule

| STOP NAME | DEPARTURE TIME | DEPARTURE TIME | DEPARTURE TIME |
| --- | --- | --- | --- |
| Ridge McIntire Rd @ Omni Hotel | 5:53 am | 6:38 am | 7:49 am |
| Old Trail Rd @ Old Trail Village Center | 6:16 am | 7:01 am | 8:12 am |
| Jarman Lake Rd @ Grayrock Rd | 6:19 am | 7:04 am | 8:15 am |
| Freedom Blvd @ Edmond Dr | 6:20 am | 7:05 am | 8:16 am |
| Jarmans Gap Rd @ Old Trail Rd | 6:21 am | 7:06 am | 8:17 am |
| Summerford Ln @ Welbourne Ln | 6:23 am | 7:08 am | 8:19 am |
| Old Trail Rd @ Old Trail Village Center | 6:25 am | 7:10 am | 8:22 am |
| Fontaine Research Park (400 Ray C. Hunt Dr.) | 6:41 am | 7:27 am | 8:40 am |
| Whitehead Rd @ Rice Hall | 6:47 am | 7:35 am | 8:46 am |
| Jefferson Park Ave @ Pinn Hall | 6:50 am | 7:40 AM | 8:49 am |
| Ridge McIntire Rd @ Omni Hotel | 6:57 am | *7:49 am | *8:55 am |
| Bus Assignments | 1st Bus | 2nd Bus | 2nd Bus |
Crozet West Afternoon Schedule
Crozet CONNECT West Afternoon Schedule

| STOP NAME | DEPARTURE TIME | DEPARTURE TIME | DEPARTURE TIME | DEPARTURE TIME |
| --- | --- | --- | --- | --- |
| Ridge McIntire Rd @ Omni Hotel | 3:49 pm | 4:29 pm | 5:07 pm | 5:51 pm |
| Jefferson Park Ave @ West Complex | 3:59 pm | 4:40 pm | 5:20 pm | 6:02 pm |
| Whitehead Rd @ Rice Hall | 4:05 pm | 4:47 pm | 5:28 pm | 6:08 pm |
| Fontaine Research Park (400 Ray C. Hunt Dr.) | 4:13 pm | 4:56 pm | 5:36 pm | 6:15 pm |
| Old Trail Rd @ Old Trail Village Center | 4:32 pm | 5:16 pm | 5:56 pm | 6:35 pm |
| Summerford Ln @ Welbourne Ln | 4:33 pm | 5:18 pm | 5:58 pm | 6:37 pm |
| Jarmans Gap Rd @ Old Trail Rd | 4:36 pm | 5:20 pm | 6:00 pm | 6:39 pm |
| Jarman Lake Rd @ Grayrock Rd | 4:38 pm | 5:22 pm | 6:02 pm | 6:41 pm |
| Freedom Blvd @ Edmond Dr | 4:39 pm | 5:23 pm | 6:03 pm | 6:42 pm |
| Old Trail Rd @ Old Trail Village Center | 4:42 pm | 5:26 pm | 6:06 pm | 6:45 pm |
| Ridge McIntire Rd @ Omni Hotel | 5:07 pm | 5:51 pm | *6:32 pm | *7:10 pm |
| Bus Assignments | 1st Bus | 2nd Bus | 1st Bus | 2nd Bus |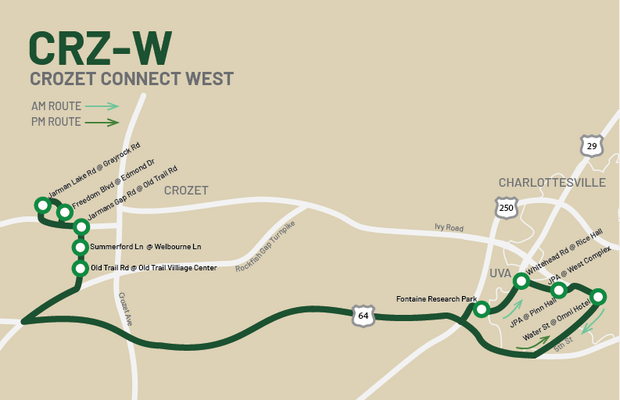 Crozet Evening Loop Schedule
Crozet CONNECT Loop Schedule

| STOP NAME | DEPARTURE TIME |
| --- | --- |
| Ridge McIntire Rd @ Omni Hotel | 7:30 pm |
| Jefferson Park Ave @ West Complex | 7:40 pm |
| Emmet St @ Central Grounds Garage | 7:44 pm |
| Mechums River @ Amber Ridge Rd | 8:04 pm |
| Wickham Pond Dr @ Clubhouse | 8:08 pm |
| Park Ridge Dr @Stonegate Ln | 8:09 pm |
| Park Ridge Dr @ Eastern Ave | 8:12 pm |
| Park Ridge Dr @ Cardinal Crest Ct | 8:14 pm |
| Three Notchd Rd @ Starr Hill Brewery | 8:18 pm |
| Three Notchd Rd @ East Downtown Crozet | 8:21 pm |
| Jarman Lake Rd @ Grayrock Rd | 8:24 pm |
| Freedom Blvd @ Edmond Dr | 8:25 pm |
| Jarmans Gap Rd @ Old Trail Rd | 8:26 pm |
| Summerford Ln @ Welbourne Ln | 8:28 pm |
| Old Trail Rd @ Old Trail Village Center | 8:30 pm |
| Ridge McIntire Rd @ Omni Hotel | *8:53 pm |
Crozet Morning Holiday Loop Schedule
Crozet CONNECT Morning Holiday Loop Schedule

| STOP NAME | DEPARTURE TIME | DEPARTURE TIME | DEPARTURE TIME |
| --- | --- | --- | --- |
| Ridge McIntire Rd @ Omni Hotel | 5:26 am | 6:45 am | 8:06 am |
| Mechums River @ Amber Ridge Rd | 5:47 am | 7:06 am | 8:27 am |
| Wickham Pond Dr @ Clubhouse | 5:51 am | 7:10 am | 8:31 am |
| Park Ridge Dr @Stonegate Ln | 5:53 am | 7:13 am | 8:34 am |
| Park Ridge Dr @ Eastern Ave | 5:56 am | 7:16 am | 8:37 am |
| Park Ridge Dr @ Cardinal Crest Ct | 5:58 am | 7:18 am | 8:39 am |
| Three Notchd Rd @ Starr Hill Brewery | 6:01 am | 7:22 am | 8:43 am |
| Three Notchd Rd @ East Downtown Crozet | 6:04 am | 7:26 am | 8:47 am |
| Jarman Lake Rd @ Grayrock Rd | 6:08 am | 7:29 am | 8:50 am |
| Freedom Blvd @ Edmond Dr | 6:09 am | 7:30 am | 8:51 am |
| Jarmans Gap Rd @ Old Trail Rd | 6:10 am | 7:31 am | 8:52 am |
| Summerford Ln @ Welbourne Ln (West) | 6:12 am | 7:33 am | 8:54 am |
| Old Trail Rd @ Old Trail Village Center | 6:14 am | 7:35 am | 8:56 am |
| Whitehead Rd @ Rice Hall | 6:35 am | 7:56 am | 9:17 am |
| Jefferson Park Ave @ Pinn Hall | 6:38 am | 7:59 am | 9:20 am |
| Ridge McIntire Rd @ Omni Hotel | 6:45 am | 8:06 am | *9:27 am |
Crozet Evening Holiday Loop Schedule
Crozet CONNECT Evening Holiday Loop Schedule

| STOP NAME | DEPARTURE TIME | DEPARTURE TIME | DEPARTURE TIME |
| --- | --- | --- | --- |
| Ridge McIntire Rd @ Omni Hotel | 3:38 pm | 5:05 pm | 6:38 pm |
| Jefferson Park Ave @ West Complex | 3:48 pm | 5:17 pm | 6:48 pm |
| Emmet St @ Central Grounds Garage | 3:52 pm | 5:22 pm | 6:52 pm |
| Mechums River @ Amber Ridge Rd | 4:13 pm | 5:44 pm | 7:12 pm |
| Wickham Pond Dr @ Clubhouse | 4:17 pm | 5:48 pm | 7:16 pm |
| Park Ridge Dr @Stonegate Ln | 4:20 pm | 5:51 pm | 7:17 pm |
| Park Ridge Dr @ Eastern Ave | 4:23 pm | 5:54 pm | 7:20 pm |
| Park Ridge Dr @ Cardinal Crest Ct | 4:25 pm | 5:56 pm | 7:22 pm |
| Three Notchd Rd @ Starr Hill Brewery | 4:29 pm | 6:00 pm | 7:26 pm |
| Three Notchd Rd @ East Downtown Crozet | 4:33 pm | 6:04 pm | 7:29 pm |
| Jarman Lake Rd @ Grayrock Rd | 4:36 pm | 6:07 pm | 7:32 pm |
| Freedom Blvd @ Edmond Dr | 4:37 pm | 6:08 pm | 7:33 pm |
| Jarmans Gap Rd @ Old Trail Rd | 4:38 pm | 6:10 pm | 7:34 pm |
| Summerford Ln @ Welbourne Ln (East) | 4:40 pm | 6:12 pm | 7:36 pm |
| Old Trail Rd @ Old Trail Village Center | 4:42 pm | 6:14 pm | 7:38 pm |
| Ridge McIntire Rd @ Omni Hotel | 5:05 pm | 6:38 pm | *8:01 pm |